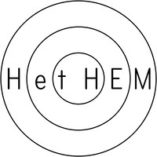 Lazy Sundays are over because every second Sunday of the month is 𝗗𝗼-𝗦𝗼𝗺𝗲𝘁𝗵𝗶𝗻𝗴-𝗦𝘂𝗻𝗱𝗮𝘆𝘀 in Het HEM. Come and explore our building Sunday March 8; all kinds of activities take place in different spaces throughout the day.
Het HEM is open Noon – Midnight.
Hope to see you Sunday March 8! 👋
𝗙𝘂𝗹𝗹 𝗽𝗿𝗼𝗴𝗿𝗮𝗺𝗺𝗲 𝗗𝗼 𝗦𝗼𝗺𝗲𝘁𝗵𝗶𝗻𝗴 𝗦𝘂𝗻𝗱𝗮𝘆𝘀 / 𝗠𝗮𝗿𝗰𝗵 𝟴
▶ Artist Talks / Living Room / 16:00 – 17:00
We talk about the importance of sensory experience and the role of intuition in their work with we Desiree Dolron, Noa Giniger and Maria Roosen. Works by all three of these artists is currently on view in Chapter 3HREE.
This Artist Talk is led by Maarten Spruyt and Rieke Vos.
▶ Space Echo 07: Pedro Vian / Living Room / 19:00
Space Echo is a series of free live concerts curated by Dynamic Range Music Bar that take place in several spaces of the huge building of het HEM. This edition features electronic music producer & Het HEM studio resident Pedro Vian. Vian will premiere his new album 𝘐𝘣𝘪𝘭𝘭𝘰𝘳𝘤𝘢.
▶ Restaurant Europa / 15:00 – 18:00
Restaurant Europa is open on Sunday and serves an 8-course lunch! Reserve a spot between 15:00 and 18:00 for the eight course lunch menu via http://europa.rest/
▶ Café Het HEM / 12:00 – 17:00
HipHop & Pancakes with DJ and all day special pancake menu.
And of course, the exhibition 𝘊𝘩𝘢𝘱𝘵𝘦𝘳 3𝘏𝘙𝘌𝘌 𝘔𝘢𝘢𝘳𝘵𝘦𝘯 𝘚𝘱𝘳𝘶𝘺𝘵 is open all day.